Victim of alleged Caleb King attack is 'up and moving and doing better'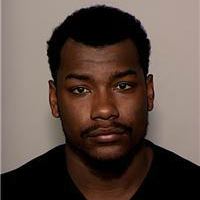 King. (Anoka County Jail, via the Star Tribune)
We told you Sunday about the case of
Vikings
running back
Caleb King
, who had been
arrested on suspicion of assault in the third degree
after apparently beating up a 22-year-old man and sending him to the hospital with a skull fracture, a need for 50 stiches and a possible brain injury.
Though King hasn't been charged yet, he remains in jail, but he got a little bit of good news Monday. The
Minneapolis Star Tribune
is reporting that the alleged victim, Andrew Hayek, is "up and moving and doing better" though he had to have his nose "completely reconstructed."
Hayek's sister, Jenny Eagle, described the confrontation between Hayek and King that occurred early Saturday morning at a birthday party as a fight between a professional athlete and a man who is 5-foot-6 and 130 pounds.
"My brother wouldn't start this," Eagle told the paper. "He's in a lot of pain."
The trouble apparently began when Hayek informed King that he resembled comedian Eddie Murphy, and King then followed Hayek to his car and proceeded to hit him in the face and head repeatedly. According to police, King threw the victim to the ground head first.
"Andrew is a Vikings fan," Eagle said, "but probably not any more."
During the weekend, Minnesota general manager Rick Spielman said, "We're still collecting and gathering information," but declined further comment.